Welcome to our online payments website.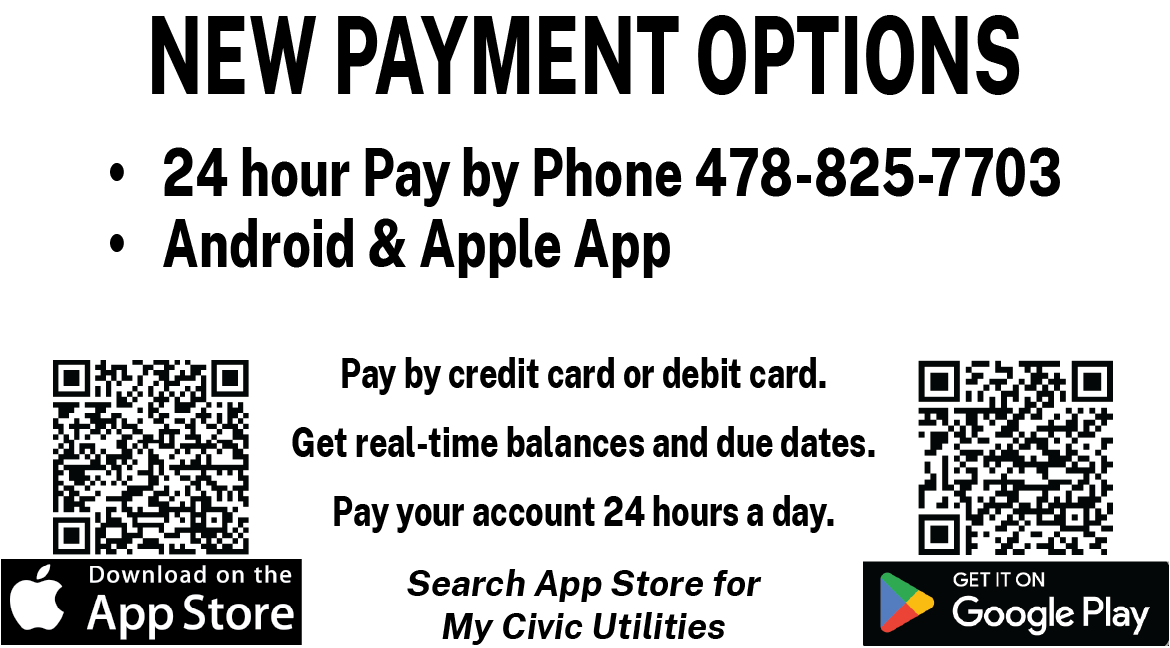 IMPORTANT NOTICE:
If you are paying after your due date, contact Customer Service at 478-825-7701 to avoid interruption of service and any additional fees.
Online payments made after close of business on your due date may incur a late fee, which will post the next business day
Office Hours
Monday-Friday (8:00 AM-5:00 PM)
Closed Saturday, Sunday, and posted holidays.
Phone Number: (478) 825-7701, Option 3
Pay By Phone: (478-825-7703)
Fax Number: (478) 825-7704


Payment Due Date, Non-Payment, and Disconnection Information
All bills are due upon receipt, but no later than the specified due date. Payment must be received in the Utility Commission office by 5:00 PM on the due date or a late fee (as shown on the front) will be assessed. Failure to receive a bill does not entitle a delayed payment. Your account is subject to disconnection for non-payment immediately after the due date has passed. To avoid disconnection, please pay your bill by the due date for the specified service period. NOTE: If the account is currently cut-off due to non-payment and you pay online via www.fvutil.com after normal business hours, the account will not be
reconnected until the next business day. You must call the Utility Commission at (478) 825-7701, option 3 and advise you paid on-line so the reconnection can be scheduled.
Any payment with a check that is returned unpaid to us by the bank is considered as non-payment and a $30 returned check fee, and other applicable fees, will be applied. If you bank online through your personal bank, keep in mind that payments are mailed to us. We do not receive payment the day the funds are withdrawn from your account. As stated above, payment must be received in our office by 6:00 PM on the due date or a late fee will be assessed, and the account is subject to disconnect.
Drop Box Information
Payments (check or money order) can be placed in a dropbox. Payments dropped off after 2:00 PM will be processed the next business day. Payments placed in dropbox after 2:00 PM on due date will be assessed a late fee (as shown on the front) and account will be subject to disconnect. A reconnect fee of $50.00 will be charged if customer requests to be reconnected between the hours of 5:00 PM - 9:00 PM or on weekends.
• City Hall - 204 W. Church Street, Fort Valley
• Community Plaza-1200 State University Drive, Fort Valley
• Neighbors Food Mart-412 Martin Luther King Jr. Drive, Fort Valley
• Utility Commission- 500 Anthoine Street, Fort Valley
In addition, gas payments are accepted at City Hall in Roberta, Georgia located at 123 E. Agency Street during the following times, however, payments must be received inside Roberta City Ha11 before 2:00 PM on the due date or a late fee will be assessed.
• Monday, Tuesday, Wednesday, & Friday: 9:00 AM-5:00 PM
• Thursday: 9:00 AM-Noon
Payment Assistance
If you need assistance paying your bill, contact one of the following agencies to see if you qualify for assistance. Note: Applying for assistance does not extend the due date.
• Department of Family and Children Services (DFCS):
Peach County Residents: (478) 825-6428
Crawford County Residents: (478) 836-6030
• Fort Valley Cares (Administered through DFCS: Same numbers listed above)
• Salvation Army: (478) 922-2226
• Neighborhood Service Center: (478) 825-3193
Representante en Espanol: Para su mejor servicio, tenemos un representante en Espanol. Favor comunicarse al 478-825-7701, opcion 3 o visite nuestras oficinas de 8:00 AM a 5:00 PM para atenderlo.